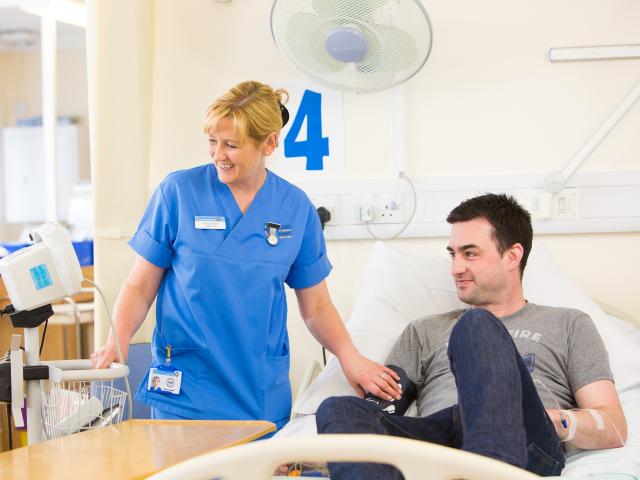 Health boards and trusts in research
When the NHS was founded and launched by Aneurin Bevan in 1948, it was the first time hospitals, doctors, pharmacists, nurses and dentists were brought together under one organisation to provide free health care to everyone in the UK.
Now, the NHS plays a fundamental role in research and development for the benefit of patients and the public, and has changed the medical landscape beyond expectation.
NHS research underpins many of the world-class treatments and methods of diagnosis used today. There is also a growing body of evidence demonstrating that research active organisations provide better care and have better patient outcomes than those NHS organisations that conduct less research.
In Wales, the link between improved care and high-quality research is identified in the NHS Wales planning framework and informs part of the key enablers for research and development which underpin the Integrated Medium Term Plans (IMTPs) for NHS organisations. Along with other relevant strategies and guidance, the enablers are founded on the Health and care standards framework which identifies research as a core contributor of effective care.
For this reason, there is an expectation from Welsh Government for every NHS organisation to purposely support research and, through the IMTP, demonstrate how the patients of Wales will be routinely offered opportunities to participate in high-quality research as part of service provision.  
In addition to this, the distinguishing feature of a university health board or trust is one which supports staff who undertake research for the benefit of patients within their care and, through high-quality teaching and research resource, has the ability to attract and retain the best staff. This includes supporting academic collaborations with universities, and encouragement and support for medical and allied health professionals to undertake research. This may mean allowing clinicians to have protected time specified in job plans for appropriate engagement in research, and creating an environment where participation in research is embedded in the everyday work of the organisation. 
Local support and delivery funding
Health and care research is a core NHS activity and ensures patients and the public can be offered opportunities to be part of research studies that bring access to new treatments, which generate evidence to improve NHS and care services.
Every NHS organisation in Wales is part of the Health and Care Research Wales Support and Delivery Service. In order to provide a range of local research and development (R&D) services, each NHS organisation is in receipt of local funding from Welsh Government R&D Division (along with funding from other sources), to support the delivery of commercial and non-commercial research studies.
The Delivery framework for the performance management of local support and delivery services underpins the local support and delivery funding provided to each NHS R&D organisation, and includes the NHS R&D objectives, key indicators and targets. In addition to increasing efficiency around setting up studies and increasing opportunities for patients and the public to engage in research, there is a clear objective to create and support a culture of research aligned to the needs of the local population.
Information related to the operational guidance for the local support and delivery funding is available below: