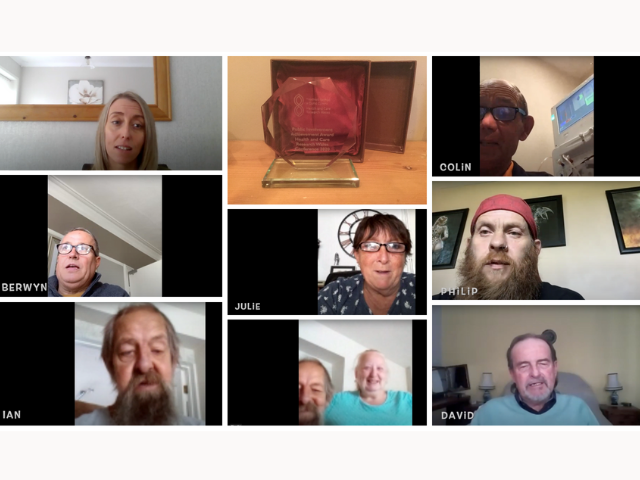 "They said they're so much happier at home": Wales kidney research study wins our Public Involvement Achievement Award 2020
The winner of our Public Involvement Achievement Award 2020 is the Dialysis Options and Choices study. 
This is the fourth year of this award, which celebrates excellent involvement of the public in health and social care research in Wales. The winner was announced as part of the Health and Care Research Wales conference, held virtually for the first time on 7 October 2020.
Dr Gareth Roberts, nephrologist and chief investigator for this study, said: "We worked hard to involve the public and patients from the very start and then throughout this research. Having those efforts recognised through this award is really great. The team are so pleased."
About the study
The research aimed to understand how people in Wales with chronic kidney disease make decisions about future treatment. In particular, the team wanted to learn more about why so many people choose to have hospital-based dialysis when treatment at home offers more benefits.
This all-Wales multi-disciplinary study took place over two years and involved many organisations and individuals across Wales. The team included academics from the Wales Kidney Research Unit (part of our research community) and Bangor University, alongside health and social care staff, charity and industry partners, and service commissioners.  
David Fellowes, patient representative and core team member, said: "Patient and public involvement was key to this study because the pathways to kidney replacement treatments are complex. 
"Their experiences of the service and perspectives on what a sustainable and great service looks like were essential to us as it meant we could pinpoint where changes could be made."
Happier at home
Mrs Gail Williams, Lead Renal Nurse for Wales, said: "Most people with chronic kidney disease choose to have dialysis in a unit or a hospital. However, when we told patients who were having dialysis at home this fact, they couldn't believe it.
"The patients having home dialysis felt so well and so confident at managing their own care that they couldn't imagine going back to hospital dialysis. They said they're so much happier at home. 
"They told us that home dialysis had given them their lives back because they didn't have to go into hospital for treatment several times a week."
It was clear that home-based care was often the better option for patients. It's also a more sustainable service for the NHS. So why weren't more patients choosing it?
Thinking creatively
Dr Leah Mc Laughlin, Research Officer, said: "I'm really interested in reaching out to new people and getting them involved in research. I want to speak to patients who you may not always hear from. As a researcher I am really interested in people and curious about what they have to say."
Leah contacted community groups and charities asking if she could attend their events and speak to people there about the research. The team attended many community events, including an intergenerational cooking class for people from Black, Asian and minority ethnic communities led by the charity Race Equality First. 
Leah said: "That event aimed to bring younger and older people together through food. We know that people with kidney failure tend to be older, so I took part in the cooking and then I asked them what they thought about this research study. 
"It was at the setup stages so we were asking for their input on things like the patient facing documents, communication strategies and ways to better engage with hard-to-engage groups."
The COVID-19 pandemic did present some challenges to their plans for patient and public involvement. The team had to cancel two in-person events in June and instead switch to virtual webinars and Zoom meetings.
Leah said: "Not having that face-to-face contact anymore makes it more difficult for us. We can't just come along to events happening in the community. You have to think more creatively about how to reach people now. For example, with a new study I'm working on we're trying to reach people through Facebook Groups."
Revealing the barriers
As part of the Dialysis Options and Choices study, the research team analysed NHS data, reviewed pre-dialysis education, and conducted interviews and focus groups with patients and health professionals. 
Leah said: "Our conversations showed that the whole service at the moment is designed around acute models of care, in other words, the hospital. When you imagine dialysis for the first time, you picture yourself in hospital and then you can't imagine having it anywhere else."
The team wanted to change this so that more patients could imagine having dialysis at home if it was right for them. Based on their research findings, the team then co-produced a vision for sustainable NHS Wales kidney services, including a new service pathway called 'Pathways to home dialysis.'
Cardiff and Vale University Health Board sponsored this study and it was funded through the Research for Patient and Public Benefit scheme.
A commitment to public involvement
As part of a UK-wide partnership, Health and Care Research Wales helped to develop the UK Standards for Public Involvement, which explains practical ways that researchers can involve the public in their research and provides the key criteria for this award.
The judging panel said that the Dialysis Options and Choices study showed "clear evidence" that all aspects of these Standards had been considered as part of the research.
"This application was a great demonstration of innovative practices to support and deliver public involvement as a core part of the research study. The panel was impressed by the commitment to involvement throughout the governance and management of the research."
Want to know more?
You can find out about the impact of this study on the Wales Kidney Research Unit website. 
Hear from the patients involved in the Dialysis Options and Choices study in the video below.
The panel were really impressed by the submissions received this year. We announced one runner up and two highly commended studies for our Public Involvement Achievement Award 2020.
Runner-up:
Swansea University
Cancer prevention among Gypsies, Roma and Travellers: a participatory research project
Highly commended:
Cardiff University
LEAP-MS: co-producing a lifestyle, exercise and activity package for people with progressive multiple sclerosis
Centre for Trials Research
DOMINO HD: an example of successful, cross-cultural engagement with public and patient representatives to design a multi-national observational study
If you would like our support to involve patients, their families or members of the public in your research, please contact our communications, engagement and involvement team.
---
First published: December 2020
Dialysis Options and Choices study partners: