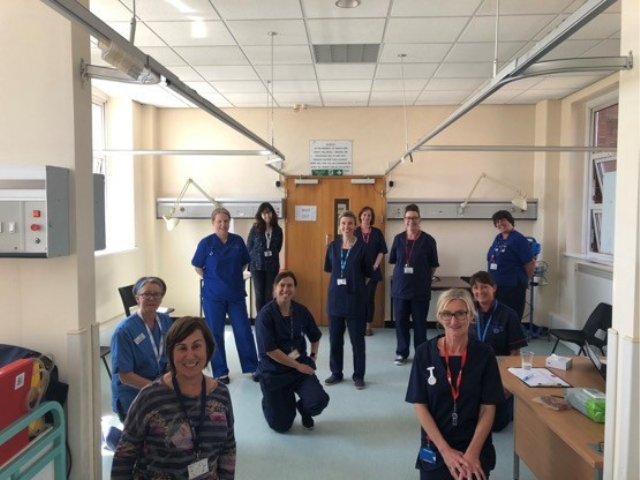 Wales plays key role in finding safe and effective COVID-19 vaccine
The Oxford/AstraZeneca COVID-19 vaccine has been approved by the Medicines and Healthcare products Regulatory Agency (MHRA) following a global trial, in which Welsh participants and healthcare professionals played a key role.
A collaboration between Public Health Wales, Aneurin Bevan University Health Board, Health and Care Research Wales, and the Centre for Trials Research at Cardiff University, took part in phase 2/3 of the vaccine trial sponsored by the University of Oxford and funded by CEPI (Coalition for Epidemic Preparedness Innovations) UK Research and Innovation.
Aneurin Bevan University Health Board recruited almost 450 participants to the Oxford Vaccine Group COVID-19 vaccine trial. Volunteers aged 18 and over were invited to take part in the trial. Many participants were from health and care settings, including staff in hospitals, GP practices, pharmacy, physiotherapy, community care and other non-clinical professions within secondary care who were deemed at risk of exposure to coronavirus.
Dr Chris Williams, Principal Investigator for Public Health Wales and lead for the vaccine trial in Wales, said: "I'm very pleased that this vaccine is now an approved part of the response to prevent COVID-19 infection. We have been monitoring the waves of infection and the terrible individual impact this can have. This vaccine will be able to prevent these hospitalisations and deaths, through prioritising the most vulnerable and those working to care for them.
"It has been a great honour to work with the Oxford Vaccine Group on this study, and also with the excellent teams in Wales delivering the study in challenging circumstances. I'd like to also thank the trial participants for their commitment to the study."
Jeanette Wells, Assistant Director of Research and Development at Aneurin Bevan University Health Board, said: "This is the best news we could have received at the end of a very turbulent year.  The Aneurin Bevan University Health Board research team have been overwhelmed by the support of so many people. Without our local collaborators new and old and of course the volunteer participants our contribution to this study would not have been possible.
"We are particularly proud to have been able to contribute to the national effort in this way, and very much look forward to seeing this vaccine deployed. Hopefully now we can look forward to brighter, happier, healthier and more prosperous New Year."
Dr Nicola Williams, Director of Support and Delivery at Health and Care Research Wales, which is nationally co-ordinating research and study-set up in Wales, said: "Our research community is working hard to provide the evidence we need to fight this pandemic and the approval of the Oxford/AstraZeneca vaccine is an important step forward.
"We have two further vaccines being tested in Wales right now, with more trials due to be set up in the coming weeks and months. This research, alongside the other COVID-19 studies taking place will help us to not only protect the most vulnerable but also to provide the best care possible for those who become ill.
"I'm proud of the role our researchers in Wales have played in this UK-wide effort and I would like to thank the participants too who have volunteered. Together we can make a real difference."
Tracey Cooper, the chief executive of Public Health Wales (PHW), said: "I am so proud that Public Health Wales has been able to support the development of this vaccine.  Knowing that our organisation has been able to play a role in the delivery of this precious resource to protect communities in Wales and beyond is a tremendous honour and I pay tribute to my colleagues who have worked so hard to mobilise this vital work so quickly. Their dedication and hard work is truly inspiring and I thank them all."
Professor Kerry Hood, Director of the Centre for Trials Research at Cardiff University said: "The approval of this vaccine represents the vast amount of work conducted by a number of people and provides hope for many as we can vaccinate as many people as possible as we move forward in 2021."
What is it like volunteering for one of Wales' COVID-19 vaccine trials?
The world has been eagerly watching researchers and scientists in a bid to find a COVID-19 vaccine.
Whilst the Pfizer/BioNTech and the Oxford/AstraZeneca vaccines have been approved for use in the UK, other trials are continuing. Many approved vaccines will be needed to meet the worldwide demand for protection against the virus, and hundreds of thousands of volunteers have signed up to play their role in that search in the UK.
In May, the Oxford University/AstraZeneca vaccine study set up (the first UK vaccine trial) the Wales site in Aneurin Bevan University Health Board, supported by Health and Care Research Wales, the Centre for Trials Research and Public Heath Wales. The researchers had already conducted smaller safety trials of the vaccine before obtaining approval for trials in the wider population. Aneurin Bevan was one of 18 UK sites selected to set up the study.
The study recruited people from the local area, mainly health care workers who, through their job roles, were likely to be exposed to positive COVID-19 cases.
Brian Begg, a 39-year-old cardiac rehabilitation Exercise Practitioner who works at Ysbyty Ystrad Fawr in Caerphilly, is one of the hundreds of participants who registered to take part in the study.
Brian, who lives in Newport with his partner Ellie and three children, first got invited to take part in the trial in May. We asked him how he found his experience of taking part in a global vaccine trial.
Q: How did you come to take part in the Oxford University/Astrazeneca trial?
A: I work in cardiac rehab in Aneurin Bevan University Health Board, delivering the exercise part of our cardiac patients' rehabilitation.
So, when the email came out from the research and development department looking for recruits, it was a no brainer for me to get involved. I'm interested in research and I'm currently enrolled on a PhD at Cardiff Metropolitan University, so I was keen to see what it was all about. I've been principal investigator on a couple of cardiac trials, so I was interested to see how a big trial like this was conducted. The science and research behind it is strong, and it seemed they had robust procedures so I signed up. Along with 20,000 others it seems!
Q: How did you feel attending your first appointment at the clinic?
A: I had a good idea of what to expect on that first visit. When I first went into the research centre, I was greeted and had the trial explained to me. I got all my questions answered, and it felt like a really safe environment to be in. I didn't really feel nervous about having the vaccine. I suppose, I felt intrigued and hopeful that my small contribution would make a difference.
Q: What did your family and friends think about you taking part in a trial like this?
A: I think they were a bit more nervous than me! There's an awful lot of misconceptions about this vaccine. Family members were asking "can it give you COVID? Will you get it?". It's not that sort of vaccine. I'm young, healthy and haven't got underlying health issues, so my relative risk is low. From taking part, I felt I could help explain the facts to my family, rather than misconceptions and myths – I wasn't going to grow an extra head! The benefits of taking part far outweigh the risks for me. It was an easy decision really, and my partner Ellie was supportive all the way along too.
Q: What other benefits did you see of taking part?
A: As I'm involved with research at work, I wanted to watch and learn from how the staff were conducting the trial, even as a participant! Also, I've had weekly testing for COVID as part of the study. So, I know for the past 29 weeks that I haven't had COVID. Every Thursday morning I've been taking my swab up my nose and to the back of my throat and sending it off, so it was interesting from that point too.
Q: What's the next few steps for you as a participant, what have you got coming up in the next few months?
A: At the moment, I've got six more weekly tests to do, and a follow up at the end of March and that will be roughly 12 months since I started. Then that may be the end of it. I'm happy to go as far as they need me.
Q: What would you say to someone still thinking about taking part in a trial like this, despite the arrival of the approved vaccine?
A: Vaccine development is not done and dusted – research is a continuous process, with improvements and adaptations happening all time. It's a personal decision, but I think people should get involved in trials, if they're happy to and they're aware of the process. Although I did learn more about vaccines and trial procedures, getting involved with research isn't about the personal benefits. It's about doing your bit for society to answer questions that could ultimately benefit others.
Q: What would you say to people who are doubting the safety or efficacy of a COVID vaccine?
A: The risks with the Oxford vaccine are minimal because it wasn't new technology being tested. There has been 10 to 15 years of research leading up to this vaccine being first produced last January/February. Some people are saying "vaccine trials usually take years" and "it can't possibly be a decent vaccine because it's been rushed through in a year", whereas actually vaccine technology has been building up for years and years and can be used now to cope with this virus. Like with the flu vaccine, people always have a choice and can weigh up their own personal risks, and the COVID vaccine will be the same. The more people that get vaccinated the better, but people can choose what to do with their own bodies. Hopefully people will be queuing up to get it.
Q: What was your main motivation for taking part in the trial?
A: It's a funny one - this is the first time in my life that I haven't felt in control of anything. In terms of my work life balance, I always plan and know what I'm doing, and you can change things and affect things, whereas with COVID, it was the first time for me that everything was up in the air. So, I thought in the vaccine trial, I can contribute a little bit. The scientists and clever people who put these vaccines together have done all the hard work, so for me it was playing a tiny little part in that chain of getting the vaccine through to completion, to hopefully get back to a state of normality. Also, I want to contribute to protecting my family, people with chronic conditions and the elderly.
Q: What do you hope 2021 will look like, following the hard work of participants like yourself and your colleagues into vaccine trials this year?
A: I hope things start getting back to some degree of normality. As humans, we thrive on interaction, meeting people, exercising, being social. I worry that there has been a huge impact on mental health. Also, in my area of work in cardiac rehabilitation, heart disease remains one of the biggest killers in the UK and the world. It will be great to get back to giving chronic conditions other than COVID the attention they need.
When I walk around, I watch people's body language as they interact. Although friendliness is still there, there is an air of caution, keeping distance and avoiding close contact. So it will be nice to get back to a stage where we don't have to think about it anymore, where we can greet people and give them cwtches, and do all the things we're supposed to do as human beings.
The Health and Care Research Wales COVID-19 research in Wales webpage has details of all related research studies that are active, or in set up, in Wales.
For further information, please contact the communications team at Health and Care Research Wales: healthandcareresearch@wales.nhs.uk